It takes more than "luck" – local barber shop is nearing 10yrs old as an ABQ Business.
Have you heard about Lucky 13? If you haven't, then you're one of the few in Albuquerque who are now informed of this business that's been open for the better part of a decade. This Albuquerque barber studio opened its doors in 2010 and has been a JohnnyBoards customer ever since.
Lucky 13 is pleased with the digital and print presence that being a JB customer brings to them – and we are excited to serve the hair and stylist community by way of spreading the word of this wonderful local business. Now for a bit about them:
They are open Tues-Saturday and believe it or not, Monday by appointment – that's rare! Need someone to do your hair and have the worst day of the week, off? Then make sure you make an appointment for a Monday chop. They cater to people of all ages – some famous, although they couldn't share names… we will keep their secrets, secret.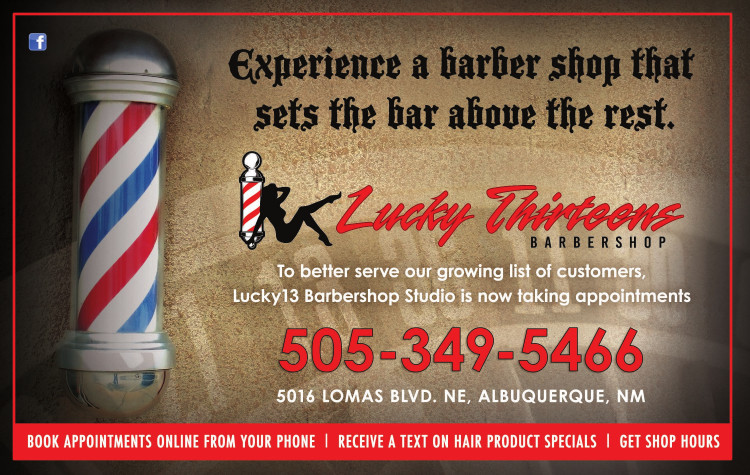 It is no secret however, how affordable that their services are; they provide full-service hair cuts in the range of $17-25 depending on your needs, and continually stay up to date with the latest trainings and trends to make sure they are ready for anyone and any request that walks through the door.
Lucky 13 goes beyond their own doors and their owners and employees aim to do whatever they can for the greater Albuquerque community. This encouraging business encourages you to check them out the next time you're around their side of town. They're located at 5016 Lomas Blvd NE, Albuquerque, NM 87110 and their phone number if you'd like to call ahead is, (505) 349-5466. They look forward to hearing from you.