Coasters for Community: One Albuquerque Housing Fund
Gets Boost from JohnnyBoards and Ambitions Business Solutions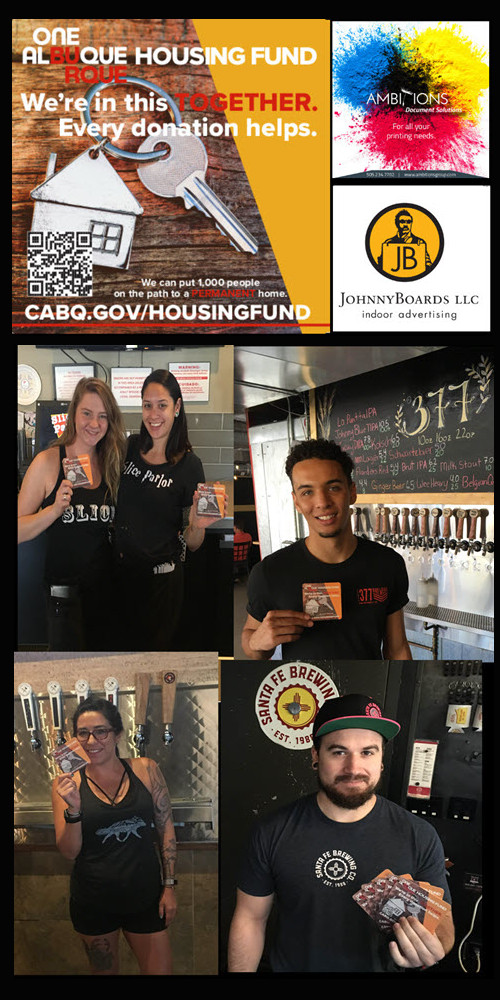 What happens when two locally owned, community-minded businesses put their access to shared resources and efforts together to help the least fortunate in our city? You get a 10,000 coaster campaign push that aids the City of Albuquerque's One Albuquerque Housing Fund. That's right – at no cost to the taxpayer or the City, but instead, thanks to the kindness of two businesses and another three-dozen who took the coasters on as something to set a drink on for patrons – 10,000 people have an opportunity to help those that need it most.
Everyone in Albuquerque realizes that our city is confronting an issue that many other cities and states around the country are also dealing with – homelessness. The City of Albuquerque is taking a multi-faceted approach with, online platforms/posts, a website dedicated to information surrounding the fund, and billboards and signage that all point to the One Albuquerque Housing Fund, a fund developed to help secure housing vouchers for people in need. The latest push is a partnership between JohnnyBoards, Ambitions Business Solutions and the City of Albuquerque. Now, you can set your drink down on a coaster at local restaurants like Slice Parlor, The Standard Diner and the Range Cafe. Local breweries including The 377, Nexus, Cantero, Blue Grass Hopper, Rio Bravo and Santa Fe Brewing. Local coffee shops like Michael Thomas Coffee. Scan the QR code on the coaseter sends you directly to the One Albuquerque Housing Fund's donation site.
There never really can be too much information available when it comes to helping those in need – and two businesses in Ambitions and JohnnyBoards saw a need in our city that has been lent to. If you care to lend your help, just scan the code on the coaster the next time you sit down to sip or take a bite out of something good at a local establishment using these coasters.
When it comes to ingenuity and heart Albuquerque businesses are second to none. The idea behind "One Albuquerque" is in fact that we are all in this together, building a city we can be proud to be part of, and to leave better off or the future generations beyond our own. Thanks Ambitions Business Solutions. JohnnyBoards is proud to have collaborated with Ambitions and CABQ with the hope that – the city of Albuquerque is a little bit better thanks to a small task from some big hearts.