Archetype Tattoo – Fusing Business and Community
"We're staying as community-driven as possible. We have an upcoming event at Ponderosa Brewing Company on April 26 at 7 pm where we do a little something called Art Fusion," said Ben Shaw, Owner of Archetype Tattoo, a local shop that lends to the community on a regular basis. Art Fusion for a Cause is a charity event benefiting different charity organizations around New Mexico. Four artists combine their talents on 4 separate canvases, switching off on each other's work until the four pieces are complete. The artwork is then raffled off and 100% of the proceeds go to the charity of the evening.
Aside from using their craft to benefit the community, Archetype artists continually hone their craft every chance they get. "A few of our artists will be attending the Explorer Tattoo Conference this May in St. Louis, MO, to gain some new knowledge and technique to create even better tattoos," says Shaw. His excitement for delivering the best of everything to those of Albuquerque is palpable and contagious. The shop is filled with talented and enthusiastic artists who create an atmosphere unlike any other in the Duke City. One of the things that Shaw and company are most excited about, is the 9th annual New Mexico Tattoo Fiesta at Isleta Hotel and Casino. The event is n July 12, 13, &14 – and Archetype is an official sponsor.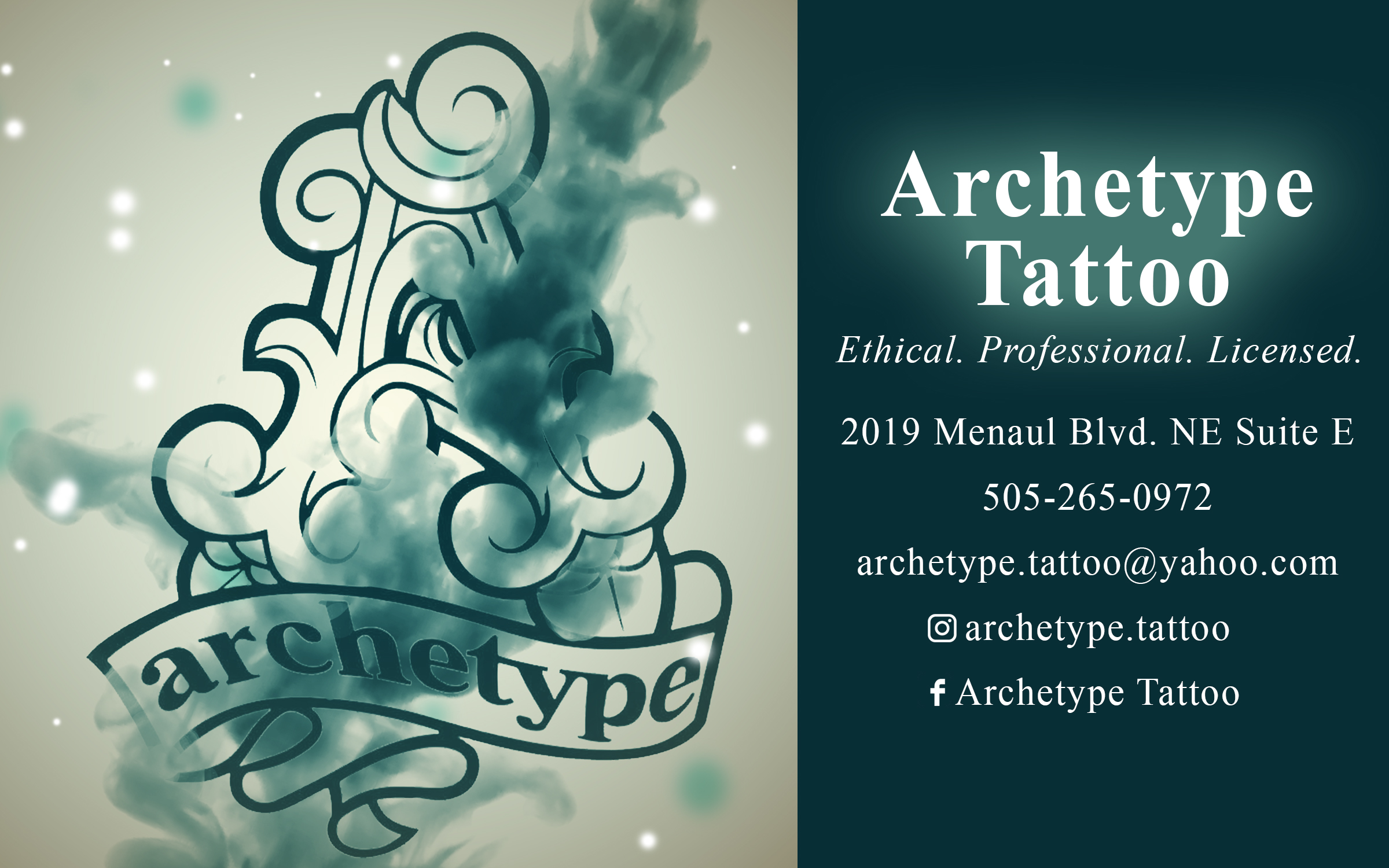 Part of building a brand has come into play as Shaw and his team moved locations last year. "We worked hard to establish our new(ish) location and prove we are some of the best in our community. The shop and our artists took a bunch of awards from the Alibi, Albuquerque Journal, and Albuquerque the Magazine," he mentioned proudly.
Archetype is definitely a family. They lift each other up and support each other in and out of the shop. "We have some of the most talented, diverse, and adaptable tattooists working in our shop," he said.
Ben's experience and leadership is the core of Archetype. As a tattooist of nearly twenty years, Ben has honed his craft to create impeccable, intricate tattoos that will last a lifetime. He has a staff of other amazing artists – here's a bit about them:
Aldo has the wackiest, most creative mind – and the technical talent to back it all up. Want an original, quality sleeve done in a day? Just ask Carlos. Eddie's the man for black, gray, and all kinds of ill sh*t – and just the man to make you comfortable for your first tattoo. Meghan's sweet neotraditional style coupled with her incredible customer service skills make Archetype one special place to be tattooed.
It's definitely obvious that Archetype artists know their craft. All their artists are 100% licensed, meaning they have completed over 1000 hours of study in the art of tattoo and have certifications in blood borne pathogen training, CPR, and first aid. This is definitely a safe place to add to a collection of body art – or to get your first.
Shaw's artists know their stuff – and they are driven to keep learning new techniques by attending educationals and conferences specifically for tattooing. Already an award-winning they continue to keep getting better Burque's ink junkies. If you're looking for a new piece, look no further – and if you're just looking for a neat group of folks who go above and beyond for their community – catch em at Art Fusion, or the New Mexico Tattoo Fiesta. Tell em thanks for all that they do for this city of ours.