The City of Albuquerque Puts Power in the hands of Burqueños  With NEW App
Have you heard? The City of Albuquerque just released a NEW App! That's right, take your issues, or interest in events, online – right in the palm of your hand. If you check out the cabq.gov website, you'll find the following information: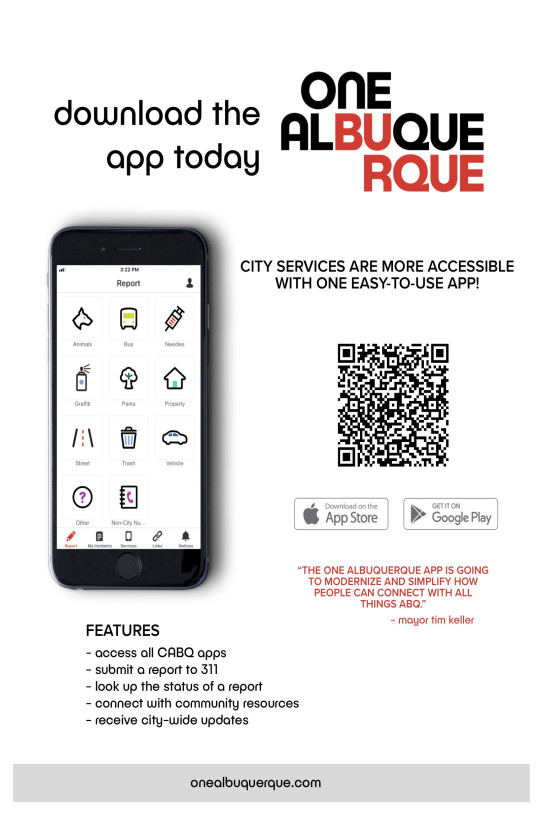 The OneABQ app houses all the city's applications in one easy-to-use app available for any Android or Apple device. It allows users to report issues to 311, checks on the status of existing 311 reports, link to other mobile applications and receive important notifications from the City of Albuquerque. You can NOW download the app by scanning the QR code present on any One ABQ: APP ad at a JohnnyBoards location. This is another incredible step in innovation by the City to aid their efforts in keeping Albuquerque residents informed.

App Functionality
Access all CABQ mobile applications

Submit a report to 311

Look up the status of a previously-reported issue

Connect with key community resources

Receive city-wide updates
System Requirements
iOS: 8.0 and above

Android: Android 4 (Ice Cream Sandwich) up to Android 8 (Oreo)



Pretty neat, right? No long waits to report that graffiti across the street. If you have to figure out where your bus is, or are looking for something different to do – you can do that too! The One Albuquerque initiatives continue; this is an example of meeting Albuquerque residents and taxpayers more than halfway when it comes to delivering information and service.
What are you waiting for? Download it, today! If you've got it already, take a second to tell a friend. There's a goal of 100,000 users by year's end – lofty? We think not – not when something is just this useful. #OneAlbuquerque – gotta love it.