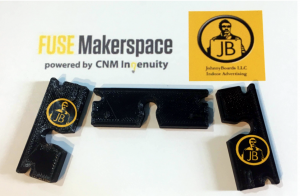 FUSE Makerspace – Creating a World of Possibility for Albuquerque Makers
Hey, Albuquerque. Being the wonderfully creative, entrepreneurial driven city you are – we wanted to take a second to see if you've heard of one of the gems that the Duke City has to offer – FUSE Makerspace. Heard of it?  
We had a moment recently to talk to Britney King of FUSE – an employee who has been in place for over 3.5 years – working to make life for makers, and business to business opportunities a reality, in Burque since she got on board.  
Speaking of "getting on board," FUSE and JohnnyBoards have a symbiotic relationship of sorts. Being that FUSE specializes in a number of things, one of which is 3D printing capabilities, it was a good fit for Ruben Garcia and the JohnnyBoards team, to team up with Ms. King and make things happen in a small business to business fashion between the two outfits.  
CNM and JohnnyBoards identified a need and an opportunity to use each other's expertise to model business to business benefits in the Duke City, when they agreed to develop a prototype that they put into action by way of the creation of security clips for the advertising boards you see in common areas around town. Garcia and King, modeled a clip, and then modeled behavior they'd like to see replicated by agreeing to #BuyLocal and support each other's efforts vendor to buyer and vice versa.  
Great right? Worth supporting, right? So next time you see a board in a bathroom or elsewhere, take a closer look at how they're constructed, and see the value and example of businesses working together in Burque. Choose to work with either of them the next time you have an opportunity to do so as well. Below you'll find a list and descriptions of services that FUSE can provide to you – and here is a link to vendors that JohnnyBoards works with and through – find a fit for you, and get in where you fit in. Enjoy.  
The FUSE Makerspace is a community center with tools that allow members to design, prototype, and create manufactured works. Great right? All you need is some cash, creativity, and time and you can use FUSE as your launching pad for the next big idea in that brain of yours. FUSE is aided in the work it does in the Albuquerque community thanks to a partnership with CNM. Partnering with CNM, allows FUSE to give their members access to affordable, high-quality classes as well as mentoring from other makers and community members. 
FUSE is hard at work fostering the startup spirit in Albuquerque's Innovation District by creating jobs and supporting businesses in the downtown community. They are enthusiastically invested in stimulating creative thinking and economic growth in Albuquerque and the surrounding areas. 
One might ask, why FUSE? What do I get when I sign up – well, we asked them that, and here was the short list of benefits to becoming a member TODAY: 
A safe, professional facility for manufacturing your ideas.

 

Equipment and tools for precision and large-scale projects.

 

Offices for rent to foster the development of your small business.

 

A collaborative, creative working environment.
If the list of benefits isn't attractive enough, perhaps the hours of operation will help to twist your arm. If you're a working professional, their extended hours on certain days of the week, and weekend hours to boot helps FUSE to serve you! Check out their hours of operation below:
Sunday: 10AM-6PM, Monday: Closed, Tuesday: 10AM-9PM, Wednesday: 10AM-9PM,
Thursday: 10AM-9PM,Friday: 10AM-6PM,Saturday: 10AM-6PM
FUSE operates both on a membership and workshop based basis with prices that vary depending what your interest and engagement are. We asked them to run down the details as much as possible, and they provided this quick reference to some of their services and prices. 
With a community pivoting toward innovation, creative economy, and creative placemaking, now is the time to make the decision to join FUSE as a member; heck, check em out for a day and see if it works for you to start. Start somewhere, start creating – TODAY 
 Workshops and Membership Details: 
     Workshops vary between $49-$69 
Memberships 
Weekly Individual Membership: $25/week

 

Monthly Individual Membership: $75/month

 

Monthly Family Membership: $75 for the first member, $25 per additional family member

 

Monthly CNM/Educational (Staff and/or Student) Membership: $50*

 
Monthly Rainforest Occupant:  $50

 

Military Membership Rate:  $50/month (Current or former, ID required)

 

Monthly Group Membership $65/month for 

a minimum

of 5 members, 

6-month

 term

 

Business Membership: $250/month**   Annual Term, 2 members, transferable