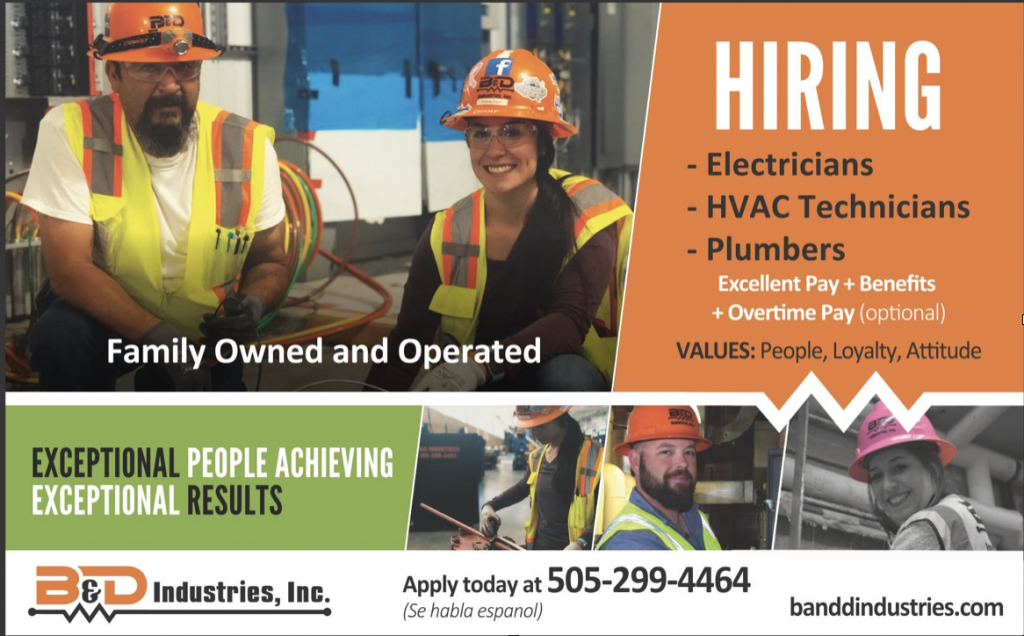 B&D Industries is one of Burque's Best: Keeping You Cool, Warm, and Safe – 24 hours a day for 64 Years and Counting!
When we think about job creators and big industry – it might be really easy to miss thinking about one of Albuquerque's most involved businesses when it comes to keeping you comfortable on a daily basis. B&D industries owned and operated in Albuquerque for 64 years, is at the forefront of security, heating, cooling, and communications related to the day to day business, for some of Albuquerque's largest brick and mortar institutions. University of New Mexico, Central New Mexico Community College, and the City of Santa Fe are just a few clients in the Rolodex of this New Mexico based business. If you're looking for services or looking for employment, B&D is a good place to look! 
B&D Industries, Inc. was established in 1955 and they offer a premier electrical prime contractor and subcontractor. They offer construction, operation, maintenance, and repair services. B&D performs work at hospitals, national laboratories, semiconductor manufacturing, and uranium enrichment facilities, Petro/chemical plants, data centers, correctional facilities, and schools. They are industry leaders in safety and compliance – getting a job done well and right. 
B&D operates under an Environmental Health and Safety Program to ensure the safety of its employees and their Quality Assurance Program includes a business management system that drives consistency and repeatability in the way they get the job done. After six decades of providing superior services through proven business practices, B&D continues to expand its reputation for outstanding quality, safety, and productivity. As members of the National Electrical Contractors Association, ELECTRI International, the Electric Roundtable, the Associated General Contractors of America and the Design-Build Institute of America, they've trained professionals for both large scale projects and small task order service delivery. In other words, there is no job too big or too small – to get done right. 
They're not just "doing the job" though – they are creating and hiring for JOBS too –
We asked them about it and they said: 
We are currently looking for the following positions:
BIM Modeler
Security/Surveillance Tech
HVAC Tech
Service Coordinator
Boiler Tech
Data Tech
Journeyman Electrician
Service Dispatcher
Warehouse Associate
Receptionist
Estimator
Networking Service Tech
Paid Internship
Do you have experience in one of these fields? Do you want to try your hand at working for a company with more than half a century's roots in the Duke City? Contact B&D today and start your new career and future with an industry leader!  Keep an eye on the careers section of their website, www.banddindustries.com because new jobs are being added all the time as they are growing bigger every day.
Do you need someone to do the job right – and deliver you the industry standard, while continually looking for ways to improve the way your business operates on a day today? Then look their way. B&D Industries is happy to serve your business' needs 24 hours a day, 7 days a week.