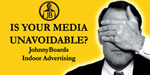 WHAT IT IS: The digital display consists of a 32″ to 65″ LCD screen in lobbies and waiting room areas. Your 7.5-second static ad, 15 or 30-second message is played with full motion and audio capabilities in a 4-minute loop.
WHY IT'S GOOD: Ability to change messages daily. Run multiple creatives, time-sensitive events. Your ad runs 40x per hour, 560x per day, 3,920x per week, 15,680x every 4 weeks with zero-waste.

You also get:
FREE bonus space with your annual media buy. *Bonus based on media buy.
FREE postings ($250 Value) to our social media platforms.