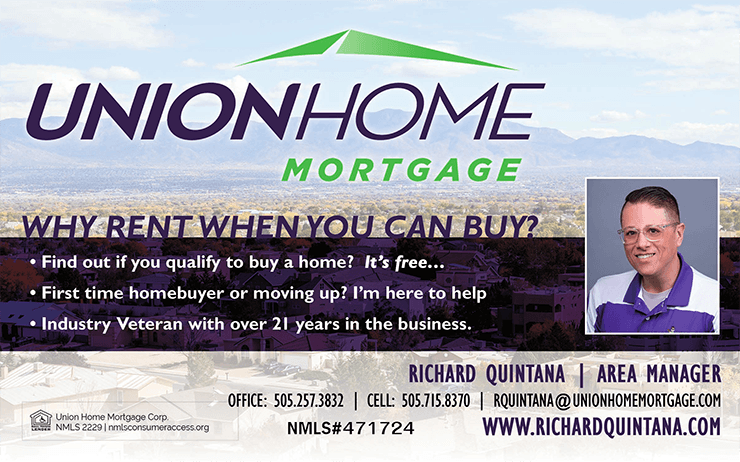 Home is Where the Heart is – Just ask Richard Quintana of Union Mortgage
JohnnyBoards prides itself on being a resource to every kind of business you can imagine; from food and beverage to law enforcement, to awareness and health campaigns -we run the gamut in terms of providing services to businesses that serve the community. One of the folks we do business with has been in business for more than two decades. Richard Quintana of Union Mortgage has been helping people set themselves up for success for twenty-two years!
If you are in the market for a loan, for means of acquiring residential property, look no further than Union Mortgage. "We handle all aspects of residential mortgage lending: FHA, VA, conventional, jumbo, refinancing, and first-time homebuyers," said Quintana when we asked about the services he provides. Quintana and Union Mortgage hold what he described as "normal" business hours – aka – Monday through Friday, but he did admit his cell phone is always on – so don't hesitate to try and give this man some business!
Being that he's been in the business for so long – we figure it has to be something he absolutely loves. In that same vein, we wanted to know what about mortgage lending sets Union apart from the rest. To that, Quintana had this to say: "I consider myself an expert in my field, but what sets me apart from my competitors is the fact that I don't make anyone feel like they are 'less than' if they don't qualify – I try to give them guidance and steps on how to get into a home. If not now, in the future." Good answer, sir. We sure can appreciate that – customer service is always an incredible focus to have and to specialize in.
Do you know what else we like about Richard? When asked about being a New Mexico – and more specifically an Albuquerque small business owner, and what he enjoyed about it – he said, "I am a proud New Mexico and an even prouder 'Burqueno' –  I am extremely defensive or our city and our State. I believe we are one of the best-kept secrets in the Southwest and I am proud to be from here." Cheers to that – us too!
When you have your ducks in a row – and are ready to buy that dream home. Look no further than Union Mortgage for a home mortgage, to keep things local. We are sure you will be satisfied with your service.
Respectfully,
Ruben Garcia