Enter Drawing for
Free Ad Space. A $525 Value.
How to Enter Drawing:
Simply visit any of our fantastic host locations, take a picture of any JohnnyBoard, post it on your Facebook Wall and @johnnyboards. Make sure to like our Facebook page and send us a message with your email address to enter. It's that easy.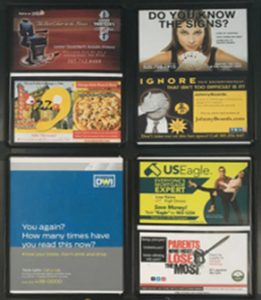 JohnnyBoards will randomly pick a winner for 1 month of advertising ($525 Value) and post it on
our Facebook on the last Tuesday of each month.
Enter as often as you like and good luck.
More about JohnnyBoards: JohnnyBoards places indoor advertising and bathroom advertising in restrooms, elevators, water fountains, and mail box areas in locations such as golf courses, restaurants, health clubs, apartments, community centers, hotels, concert venues all over New Mexico including Albuquerque, Santa Fe , Las Lunas, Belen, Las Vegas, Los Alamos, Rio Rancho as part of  its out of home network for small business and public service awareness . Your audience is truly captive from 30 seconds to as much as 4 minutes.